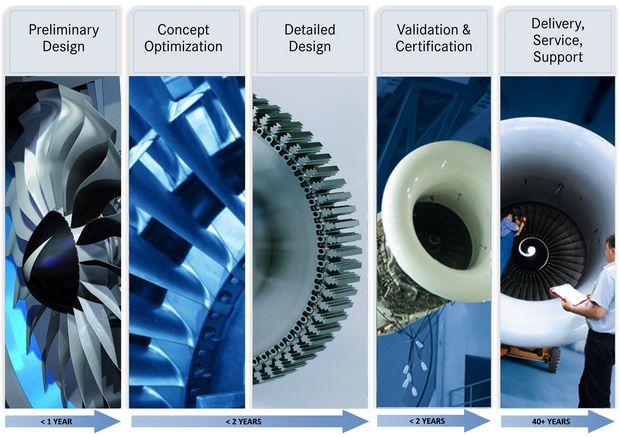 Preliminary Design
During preliminary design, special care is taken to assure that the product will continue to meet product requirements. This phase is instrumental in determining the maturity of experimental technologies and planning of adequate testing.

Concept Optimization
In the concept optimization phase, concept ideas are generated for the given product specifications. After initial concepts are reviewed to assure that the concepts will meet product requirements, analyses and studies are defined to mitigate product risk early on in the development process.

Detailed Design
Detailed design is a continuation of the previous design stages at a more refined level. Follow-ups to previously implemented plans are carried out to continually ensure that all requirements are met and that the program remains on schedule.

Validation and Certification
Validation and certification prepares the product for its introduction into service with rigorous hardware testing. After all parts and processes of a product are validated, the product is certified.

Delivery, Service and Lifetime Support
At this stage, the product is delivered to the customer and begins its field operation. The product is continually serviced, adjusted, and repaired to meet any new customer needs or challenges that may arise.

Alex Remington
Manager HPC CIPT